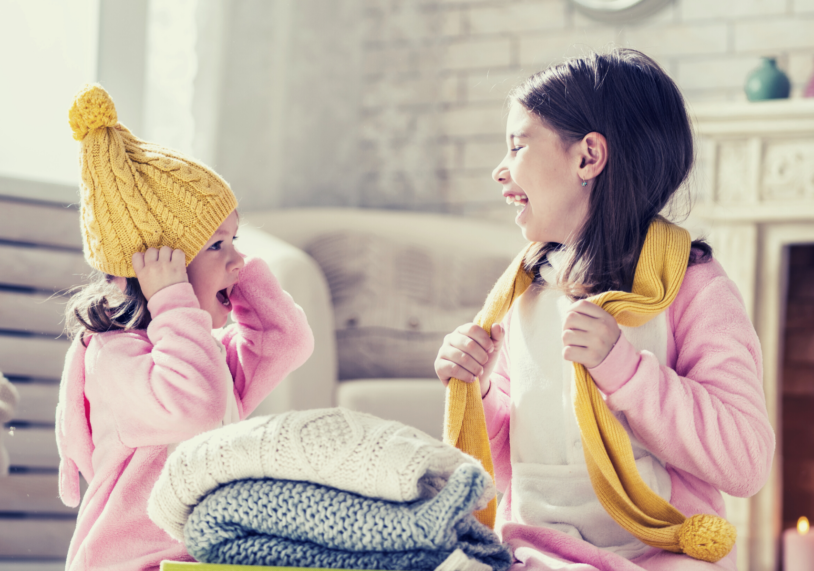 Florida may not get picture-perfect snow during the holidays, but that doesn't mean you can't have lots of fun with the kiddos in the winter! Whether you're a nanny working in South Florida or you're a parent looking for kid-friendly, holiday activity options at your disposal, we've rounded up a few options to make it easy for you.
If you're looking for a nanny in Miami, A Perfect Fit Nanny Agency is here to help! Contact us today to start your nanny search.
Catch the Winterfest Boat Parade
The biggest and brightest holiday boat parade in South Florida, thousands of boats are decked out in holiday lights every year and off their decorations along a 12-mile parade route. The Winterfest Boat Parade is a truly Floridian holiday activity, combining festive lights and a celebration on the water.
This year's in-person parade events were canceled, but a TV special is still planned for 2020's celebration. Grab some popcorn and/or holiday cookies and catch the televised special on Saturday, December 12 at 7 pm EST.
Hit the beach
Why not hit the beach in the winter? Take advantage of those 70 and 80 degree temperatures and bring the kids to the beach for the day! Make sand snowmen, sand angels, and enjoy the warmth and fresh air in South Florida.
At the time of this blog, public beaches in Miami are open with restrictions. You and the kiddos should wear face masks when entering or exiting the beach, or when walking around common areas. Stay at least six feet away from other groups. Groups should be limited to 10 people or fewer. Remember to check on any restriction or rule changes before heading to the beach!
Dress up and visit Zoo Miami
Each weekend in December, Zoo Miami will host more than half a million dazzling tree lights, plus lots of holiday-themed events like letters to Santa, holiday shopping, and arts and crafts.
To get even more into the holiday spirit, Zoo Miami will have the following themed nights:
December 4 & 5: Galactic Nights. Dress like your favorite Star Wars, Star Trek, or Guardians of the Galaxy characters.
December 11 & 12: Ugly Sweater Nights. Show off your ugly holiday sweaters.
December 18 & 19: Santa & Elf Look-a-Like Nights. Dress up as Santa, Mrs. Claus, or their helpful elves.
December 20 & 23: Superhero Nights. Always wanted to dress up like a superhero? Well, this is your chance!
Tickets for Zoo Lights Miami range from $17.95 to $22.95. If you're a member, you can receive discounts. Masks are required at all times for guests 2 and older, and some events may have limited capacity.
Make your own snow globes
No snow in Florida? No problem. Making your own snow globes at home is an easy, fun holiday craft for kids. They can even make their own globes to give to friends and family members.
Materials You'll Need
Small glass jar
LEGO, small toy, or small action figure
Glitter
Water
Spoon
Hot glue and hot glue gun
Glycerin (optional)
Instructions
Ask your kiddo to find a LEGO, small toy, or small action figure to put inside the snow globe. If they're ready to part with it, it'll make a great addition to the snow globe!
Once they've chosen their toy or figure, glue it to the underside of the jar lid. Let it dry completely.
Then, fill the jar with cold water. Add a few teaspoons of glitter.
Add a few drops of glycerin, if you're using it. Glycerin isn't required, but it will help the flakes of glitter float better.
Screw the lid onto the jar. If you don't want your child to open it, you can glue the lid shut.
Ta da! You have a snow globe. Give the jar a gentle shake and watch it snow!
View holiday lights in your neighborhood
For a low-key, free, and safe holiday activity, take a stroll around the neighborhood to view the Christmas lights! Enjoy the nice Florida winter weather at night without having to bundle up in lots of warm layers. Bring to-go cups of hot chocolate, and if you're driving, turn on the holiday tunes in the car.
Not sure where to see the best lights? This article has a list of public light displays and must-see private home displays across the city. For more suggestions on neighborhoods and homes to check out, see CBS4 Miami's list and the Miami Herald's list.
Join A Perfect Fit for more tips
The great thing about planning winter activities in Miami? You're not limited to snow and freezing cold temperatures! Whether you're a parent or a nanny, A Perfect Fit is here to help you make the most of the holidays! We also just opened a brand new location in Miami and we're excited to serve the South Florida community.
Interested in joining A Perfect Fit's team of nannies in Miami? Call A Perfect Fit at 305-756-7809 or send us an email at hello@perfectfitnanny.com. You can also fill out an online form to get in touch with us!