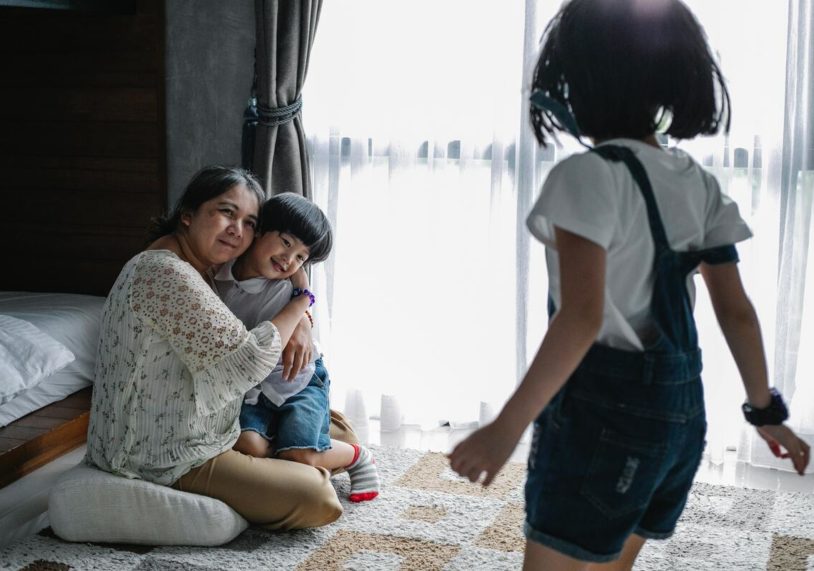 You may have heard the term "au pair" to refer to a professional in childcare services, and you might be asking yourself: what's the difference between au pair and a nanny? There are several distinctions between the two types of childcare professionals that we'll go into so that you're better equipped to understand what might be the best option for your own family.
What's an Au pair? 
Au pair, which translates to "equal" in French, typically follows a tradition of international travel and a cultural exchange program, although that doesn't always have to be the case. Traditionally, an au pair is usually a young person between the ages of 18 and 30 who would like to broaden their cultural experiences by living in a different place or country, and so they seek out a "host" home that will provide temporary housing in exchange for the au pair's labor as a childcare provider and help with light housekeeping. Because the exchange usually stipulates providing lodging on the part of the host family, au pairs aren't given a salary or wage but are usually given some allowance or stipend, the value of which is agreed-upon before the au pair moves in. As such, the au pair becomes essentially part of the family, as the au pair is living with the family. There are even visas available in many countries. America offers au pair visas to candidates from Eastern and Western Europe, Africa, South and Central America, Canada, Australia, New Zealand, the Middle East (including Israel), and Asia.
How does an au pair compare to a nanny?
Meanwhile, nannies are always paid a wage in exchange for their services in a household's childcare and housework. Nannies typically have households of their own, and might even have families of their own, while an au pair is traditionally someone who is young and/or single and looking for a way to travel inexpensively in exchange for their childcare services.
Long-term vs. Short-term Childcare
Nannies are also typically longer-term childcare providers for families – some families will keep a great nanny in their home for the entire child-rearing span until all the children move out of the home! This is compared to an au pair, who might be more of a temporary option, as the au pair might be interested in moving on to a different country for exchange or returning to their home.
Providing Space for an Au Pair
Other than weighing the option of if your family prefers a longer-term childcare provider, such as a nanny, versus a shorter-term au pair, there are other considerations to factor in as well. While an au pair might be less expensive than a nanny, the trade-off hinges on making sure the host family is able to provide reasonable accommodations for an au pair. A private room is usually required, at a minimum, but a private bathroom and/or kitchenette are likely preferred. When you put yourself in the shoes of an international traveler, what would be the ideal scenario and set-up for your host home to have? You might want to make sure that you have an attractive space that would draw the interest of a quality au pair to factor into your decision.
International travel and destination hosting 
Also, it's important to think about the location you live in and if it would be attractive to international visitors when considering hosting an au pair. Do you live in a city that would be of international interest to visitors? What's nearby that could be an attraction for a potential au pair? Since the au pair is unlikely to have a car, are there public transit options for them near your household – or are you willing to loan or lease a vehicle to them as part of your contract? These are important things to think about if you're considering bringing an au pair into your household.
Cultural differences 
Part of the fun of having an au pair is that everyone involved in the exchange benefits from a multicultural experience. The au pair is usually hoping to visit a new country, and usually, the family is excited to meet someone from a different country from their own as well. Childcare providers, especially from other countries, might notice some cultural differences between their own background and their employers. There are plenty of exciting and enriching cultural differences to discuss, including and especially different languages. Oftentimes, au pairs coming to the United States are interested in practicing their English, for example, and a family's willingness to help them develop this skillset might factor into their decision. However, in order to get a visa, the au pair must have a basic understanding of the language of the host country, so host families shouldn't be stuck in a situation where the language barrier is too difficult. From the opposite perspective, there's an opportunity to help expose your household and children to different languages from a native speaker – which is a great perk for a family that might be interested in practicing their French, Italian, Spanish, or even those not typically offered in American schools such as Chinese, Korean, or Hindi. There are many benefits to having a childcare provider that is multilingual, as it can greatly help with your child's development and exposure to diverse perspectives and cultural differences. In general, cultural differences are wonderful to have in a household to create an environment that is more representative of our diverse and endlessly multicultural world, but generally speaking, the cultural differences are likely to be more pronounced in an au pair compared to a nanny by the very design of what an au pair is, so it's important to be aware of that distinction for families interested in hosting an au pair. Families who are interested in the au pair option must be comfortable with a certain amount of expected cultural differences with their childcare provider for obvious reasons, and it's best for everyone that these differences are celebrated even if they might occasionally arise in confusion due to a bit of a language barrier or just general cultural differences between the host family and the au pair.
What is the history of an Au pair? 
The tradition of bringing in an au pair began in Europe after World War II. There was a lack of affordable childcare options for middle-class families and there was a surplus of young people, typically female at the time, who were interested in higher education and travel for the first time in history, as aspirational opportunities were starting to open up more for women. The opportunity that an au pair situation provided for young girls and women helped to expand their horizons and help them develop their language-speaking abilities in other countries. Nowadays, some au pairs are men – but it's still predominantly young women who are au pairs. The translation "equal" is meant to designate the au pair as traditionally more a part of the family, eating with them at meals and going on vacations with them. In modern times, au pairs are more widely available today with the ease of the internet and families are able to bring an au pair into their home by going through an au pair agency, which can help to screen and place candidates, or by creating online profiles advertising their host position and searching for fitting applicants.
Visas and legal limits 
Since getting an au pair typically requires a visa if the au pair is staying more than a couple of weeks, there are some additional legal requirements to consider. Visas for au pairs will set limitations on the au pair's hours they're allowed to work and the type of work they're allowed to offer, so it's important to be mindful of that. It would also require a bit of paperwork to ensure that everything is approved by the government, as it requires an approval process on the part of the host and some consideration and willingness to help with your au pair's visa as well. There are also typically fees involved in applying to be a host for an au pair, so make sure you've done all your research to see if it really would be a more cost-effective option for your family in the long run. Other requirements for host families include the fact that the host family must live in one of 180 "cluster" areas in the United States, that the host family can prove that the room and board are up to standard (including three meals a day and a certain level of privacy), that the host family themselves are U.S. citizens, and that they are willing to agree to certain legal stipulations about bringing in an au pair – such as an educational component.
Overall, having an au pair can be a lovely and fun experience, but having a nanny is also run and rewarding in a different way. It all depends on what your family prefers and what fits your situation best. At A Perfect Fit Nanny Agency, we're always providing the most information and resources possible to help both families and childcare providers navigate their decisions in this complex and competitive market.