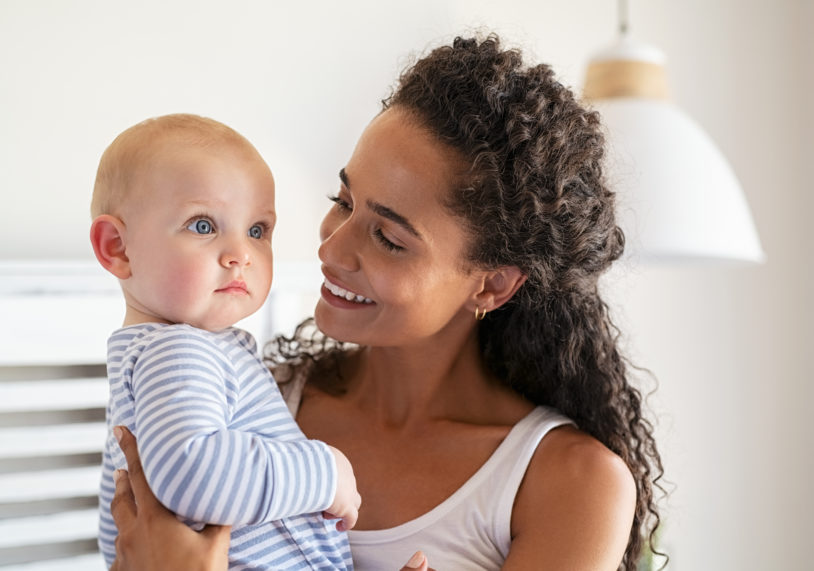 A live-in nanny is a nanny who lives in their employer's home and provides child care. Families who opt to hire a live-in nanny instead of a live-out nanny (who commutes to the family's home) do so for a variety of reasons.
Live-in nannies can be more available to parents who work non-traditional hours or travel a lot. Children who have special needs or require more comprehensive care may benefit from having a live-in nanny as well. And a live-in situation can make it easier for a nanny to continue to provide care in highly expensive cities.
If you're considering a live-in nanny, here's what you need to know about their pay and what to expect.
What you should know about hiring a live-in nanny
Providing room and board for a live-in nanny might seem like you'd get a good deal: they can work longer hours, be available more often, and have less chance of being late to work. Plus, you can charge them for room and board.
That's where you'd be wrong.
There's a misconception that a live-in nanny should not be paid as much as a nanny who commutes to a family's home for work. Some families think that receiving child care in exchange for room and board and decreased pay is a fair arrangement. If your live-in nanny doesn't have to pay for rent, utilities, or food, they don't need to make as much money, right?
At first glance, a reduced rate for a live-in nanny seems logical, but it's not necessarily fair. Whether your nanny is live-out or live-in, the pay should be the same. We'll break down the expenses of having a live-in nanny in a moment, but first, let's talk about average nanny pay in the United States.
The average base pay for a nanny depends on where you live. Demand and cost of living can drive up the price of child care; in states like New York, Massachusetts, and Washington, nannies can make anywhere from $17 to $23 an hour. In states with cheaper cost of living like North Carolina, Arkansas, or New Mexico, the average pay may be closer to $13 to $15 an hour.
You can see how pay varies in the three cities A Perfect Fit serves: the average hourly rates in Phoenix and Dallas range from $18 to $22/hour, and Denver ranges from $23 to $28/hour. A Perfect Fit holds to high standards, high-quality care, and fair wages, which is why these averages are higher than the national.
There's another element that affects a live-in nanny's wages: their experience, education, and certification or training. The more experience or job-specific skills your nanny has, the more you can expect to pay. The job itself will also impact your nanny's pay. Nannies who will care for multiple children at once typically earn more. And jobs that require household duties or running errands should pay nannies accordingly.
Expenses for a live-in nanny
If you already have an extra bedroom and bathroom in your home, room and board costs for a live-in nanny won't increase as dramatically as you might think. Other factors, like the size of your home and the cost of water and electricity where you live, already make more of an impact on your monthly bills.
Asking a nanny to live with your family benefits you, not the nanny. Remember that live-in nannies will eat, sleep, rest, and relax in the same place that they work. When the workday is over, they can't really distance themselves from the job, physically or mentally, because they live at their job.
As comfortable and happy as a live-in nanny may be with their family, it's not truly their home. They have to be aware of how they spend their free time, what time they leave and arrive at the house, who they invite over, and so on. If you've ever lived with roommates, you understand that you have to be mindful of everyone else living in the home.
Plus, many live-in nannies find it very hard to have "off hours" when they live with the children they care for. Flexible scheduling is one of the biggest benefits to having a live-in nanny, but it can also make the boundaries of their job hard to uphold.
Working with a live-in nanny
If you want to hire a live-in nanny, you'll also need to know legal qualifications and parameters of this working relationship. Live-in nanny agreements differ by state, which is why working with a nanny agency that excels in live-in placements can help. The agency will have everything you need to stay "above board" and ensure a mutually beneficial relationship for your family and your new nanny.
When you officially hire a live-in nanny, the first step should always be to discuss schedules and boundaries. Having a live-in nanny does not mean they'll provide child care 24/7. Determine a scheduled set of hours that your nanny can expect to work each day. At A Perfect Fit, we offer all our clients a live-in nanny agreement to guide this conversation and uphold those boundaries.
Have a plan in place if you require them during their off-hours, and offer overtime if they work more than 40 hours a week. While overtime is not required for live-in nannies in Arizona, Texas, or Colorado, we do still encourage it as an agency.
Find a live-in nanny with A Perfect Fit
At A Perfect fit, we get to know each and every family and nanny in order to create the best match. We provide placement services for full-time and part-time nannies who are live-in or live-out. If your family is searching for a nanny in Dallas, Denver, and Phoenix, let A Perfect Fit help. We'll also help you understand the process of hiring a live-in nanny, and the laws and regulations you'll need to follow.
Contact A Perfect Fit today to begin the process of finding your perfect live-in nanny.