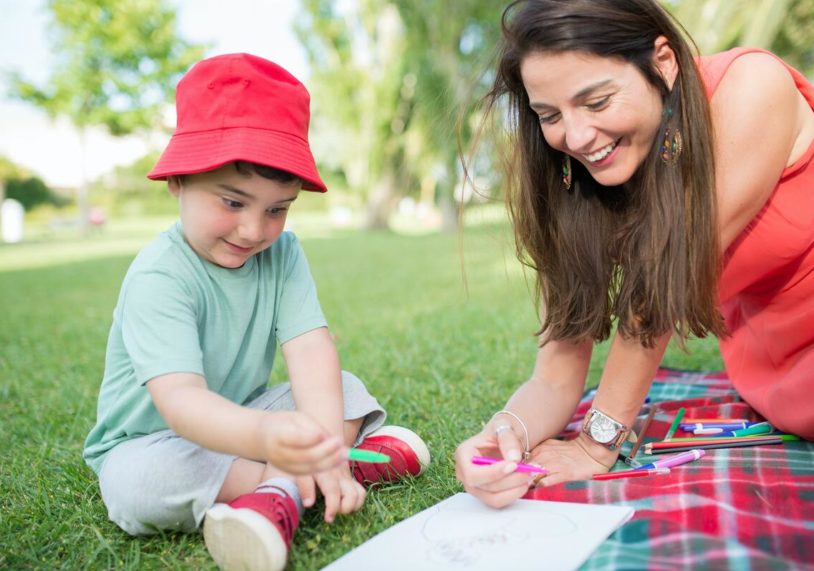 Why not spice up your employment package? As a parent or guardian, you might be looking for creative ways to attract the very best talent to your household outside of, and/or in addition to, competitive pay. There are plenty of ways to generate interest in your job by offering benefits to your potential hires that they might appreciate and enjoy. In such a competitive marketplace, offering such benefits can really make your family's job opportunity stand out and earn you the highest quality childcare services available. Here are some ideas of benefits that families can offer that they might have not considered before:
Competitive Paid Vacation 
The minimum offering for paid vacation is one week a year, however, 2 weeks of paid vacation time is standard, and of course, 3+ weeks is going to be more desirable for potential employees. Paid holidays are also a great benefits package addition, and you can find out more about holiday offerings here. Studies show that employees who are given more paid time off are more productive overall, so this is a great way to ensure overall ideal working conditions for your employee. Remember that it's standard for the industry to pay time-and-a-half or double time when working on holidays, or you can give your nanny a paid holiday off from work.
PTO for Birthday
Your nanny's birthday is another great opportunity to give them a paid day off, in addition to paid holiday time. Remembering and providing time off for your employee's birthday is a great, easy and cost-effective way to show that you care and appreciate their hard work – one that will not go unnoticed by potential childcare workers looking for work. This can greatly help overall job satisfaction for your nanny – who, like anyone – would likely rather make fun birthday plans than work, despite how fun and rewarding their job can be.
Bonuses
Bonuses such as holiday bonuses, signing bonuses, and retention bonuses are a great incentive to bring on a top nanny and keep them with your family. Roughly 60% of families provide a holiday bonus to their nannies at the end of the year, so it's pretty standard practice. Signing bonuses are typically offered upon your potential nanny's acceptance of the position, and retention bonuses are offered after a set amount of time that your nanny has worked with you, for example after one year of accepting your employment package. Bonuses are a pretty straightforward way to build trust and loyalty between employer and employee, especially if you're hoping to hold on to a nanny long-term.
Health Insurance or Stipend 
There's so much to discuss about health insurance options for your nanny, that it is a whole blog post in itself. The broad strokes of healthcare options you can provide for your nanny are between two choices: the Qualified Small Employer Health Reimbursement Arrangement (QSEHRA) and the Individual Coverage Health Reimbursement Arrangement (ICHRA). Healthcare options in general are a great thing to include in your nanny's employment package to make them feel healthier all around and more secure in their position with you. In a world where the topic of healthcare can seem intimidating and daunting, a little bit of research into options for your nanny and a presentation of those offerings can go a long way.
Gas Reimbursement 
Gas reimbursement is standard and A Perfect Nanny Agency does require it for when the nanny is driving to work. However some families, for example, families that know their home is a long distance from the nanny's own, can also offer reimbursement for the nanny's commute if the nanny drives a car. Offering reimbursement for your nanny's commute has the added benefit of opening up your talent pool to potential nannies outside of your immediate area. If the nanny uses public transportation or another form of transportation, families can also offer a stipend to cover those costs as well, especially if that family would like to encourage more environmentally friendly transportation options for their nanny.
Education Reimbursement 
Families are able to provide a tax-free stipend that covers tuition, fees, books, supplies, and equipment to any childcare professional who is hoping to continue their education in some way. This helps the nanny feel as though the family is invested in their success as a person, which can deepen trust and bonds between families and nannies. A strengthened bond between nannies and families is always a positive thing in a work environment that is so personal and intimate. It also helps to set a great example for your own children to show that your family is committed to furthering higher education in all senses, which enriches the lives of everyone.
Professional Development 
The International Nanny Association (INA) is the umbrella organization of the in-home childcare industry. Membership with this organization can greatly help your nanny feel supported as a professional. If families offer to pay for their nanny's INA membership, along with other perks like providing time off and paying for the annual INA conference, certifications, and nanny training courses, then the nanny will have the resources at their disposal to further their own professional development as a childcare worker.
401K
Families can offer a retirement account that nannies can contribute to and families might even offer to help match contributions. Such an offering greatly helps nannies plan for their future with their earnings, and will likely be very appealing to potential hires – as not every family would typically think to offer one. This is another great way to provide an incentive for nannies to stay with your family longer-term – especially when it's so competitive and often difficult to keep a nanny for the long haul.
Gym Membership
Another creative and low-cost option that helps holistic health for your family's nanny is offering a gym membership. This is such a great way to help your nanny feel as though your family is invested in their overall health and happiness. Exercising is a great way to boost endorphins, which is a great stress-relief hormone that boosts happiness – and a happy nanny means a happy home! Some gyms have monthly fees that are only $10 a month, so there are plenty of different options for families that are looking to add benefits but are nervous about associated costs. Families can discuss options with their potential nanny for a gym membership that is conveniently located for the nanny, as long as that's something the nanny is interested in.
Car Maintenance Reimbursement
For nannies that are car-users and especially nannies that provide transportation services using their own cars for your children, car maintenance offerings such as sponsoring oil changes, filter changes, car-washing and detailing, and the like are a great way to assist your nanny in thoughtful ways and improve the overall employment package for them. It shows that the family is aware that the position can cause normal wear and tear on a nanny's own personal vehicle, and that they're willing to help offset those costs. Car maintenance, again especially given that your children will be spending time in the nanny's car, also help to ensure a safe vehicle for your family's transportation.
Monthly Spending Allowance 
Especially to encourage nannies to go places with the kids, monthly spending allowances help support nannies' ability to diversify their own and your children's experiences, which can be enriching. For instance, nannies can use the allowance to do things that everyone can enjoy, such as seeing a movie, going to a museum, attending an arts and crafts class, attending a cooking class, or seeing a play. There's tons of potential for nannies to get creative with their childcare routines when they're provided a stipend to do so, and it can greatly bolster the bond between children and their nannies if everyone is having fun while simultaneously providing a safe childcare setting.
Leasing a Car 
Especially for nannies that are expected to provide transportation for children as part of their job requirements, families can choose to lease a car from a dealership specifically for your nanny to use. This is a fantastic option as part of the employment package, because the nanny doesn't have to worry about using their personal vehicle. This has the added benefit of further peace of mind for providing a safe vehicle for your family, and is a great way to boost the offerings provided to your nanny.
Guaranteed Hours
Families can offer guaranteed babysitting hours on top of your nanny or childcare worker's normal schedule. As the cost of living and different external circumstances, like inflation and rising gas prices, can often make any professional nervous about their guaranteed income – the potential to land a job with extra guaranteed hours or income is extremely appealing. When employees know they can count on a certain amount of income, they're likely to feel much more comfortable and settled into their position.
Overall, considering adding some of these ideas to your employment package for your nanny will guarantee that your job offering becomes immediately more desirable to a potential nanny. If you're looking to capture the best talent available, it's a great idea to create a unique and competitive employment package that's still economical for your family, and all of these ideas have varying cost options. At A Perfect Fit Nanny, we're committed to helping you navigate all childcare decisions by providing you with as many resources as possible to explore all your options.