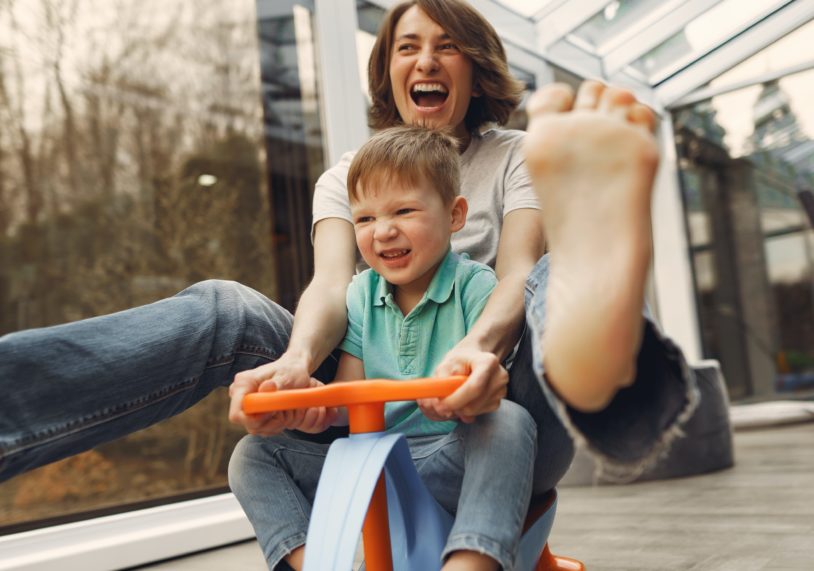 As temperatures ramp up and we say hello to spring in Dallas, it can be tempting to take the kids to all their favorite spots around the city. However, most of us are stuck at home under quarantine for the time being. Luckily, there are still plenty of fun and safe activities you and the kids can do at home! Read on for some ideas below.
Take a virtual tour through a museum
You might not be able to take the kids to your favorite museums in person right now, but you can take virtual tours through exhibits using Google Arts & Culture. Dallas Contemporary currently has photography and multimedia exhibits available to view online. Dallas Museum of Art has its collection of over 15,000 items you can tour on the site, ranging from sculptures to metalwork to oil paintings and more.

Plus, when you want to venture outside of Dallas, you can check out art, music, and historical landmarks from famous museums all over the world.
Make homemade ice cream
No ice cream maker needed! Follow this kid-friendly recipe for raspberry ice cream in a bag. A perfect warm weather treat that also teaches kids a little science.

Ingredients
1 cup half-and-half
½ cup fresh raspberries, or any other fruit
¼ cup sugar
2 tablespoons evaporated milk
1 teaspoon vanilla extract
4 cups coarsely crushed ice
¾ cup salt
Quart plastic bags
Gallon plastic freezer bags
Instructions
Take two 1-quart plastic bags. Place one bag inside the other.
Inside the inner bag, add the half-and-half, fruit, sugar, evaporated milk, and vanilla extract. Seal both bags, pressing out as much air as you can.
Place the 2 bags in a gallon-size plastic freezer bag. Add the ice and salt to the gallon bag. Seal the bag, pressing out as much air as possible.
Shake and knead the ice cream mixture until thickened, about 5 minutes.
When done, you get delicious soft serve-like ice cream that everyone can enjoy!
Get some fresh air
Popular community spots like Klyde Warren Park may have closed their facilities and playgrounds, but you can still enjoy the sunshine and get some fresh air. Go on a walk or an easy bike ride through your local parks or on a neighborhood trail.

Just be sure to visit public spaces responsibly and remember to social distance. Check websites beforehand to see which are open to the public. Bring your own toys or sports gear and avoid the playground equipment. Try to go to parks and trails during off-peak hours, and if it's getting too crowded, find a different space.
Play outside at home
If you and your employers would prefer to avoid public parks and trails, there are plenty of outdoor activities you can do with the kids in the front or back yard. Bring typical "indoors" activities outside, like reading, coloring, arts and crafts, toys, or board games. Doing them in a different environment can make them even more fun and exciting again.

Love camping? Set up the tent in the backyard. Play easy games like cornhole, tag, hide-and-seek, or catch. Let the kids decorate the driveway or sidewalk with chalk art. They can also play hopscotch or tic-tac-toe with sidewalk chalk.
Do an easy hand washing science experiment
If you haven't seen this popular experiment on Instagram that shows kids why hand washing is so important, now's your chance.

What you need:
Black pepper
A light-colored plate
A bowl
Hand soap
Instructions
Fill a light-colored plate with water. Add some pepper flakes to the water.
Add a small amount of hand soap to your bowl.
Have the kids put a finger into the peppery water. Notice how the pepper sticks to their skin.
Have the kids rub the finger in the hand soap. Then put it back into the peppery water. Watch the pepper instantly move away.
Kudos to preschool teacher Amanda Lorenzo, who came up with this fun and simple trick that shows kids why they need to wash their hands!
Check out A Perfect Fit
For more tips on nannying in the Dallas area, check out the A Perfect Fit blog. And if you're searching for a new family, we can find the perfect one to meet your needs. Learn more about our nanny agency services today.