How to Write The Perfect Nanny Resume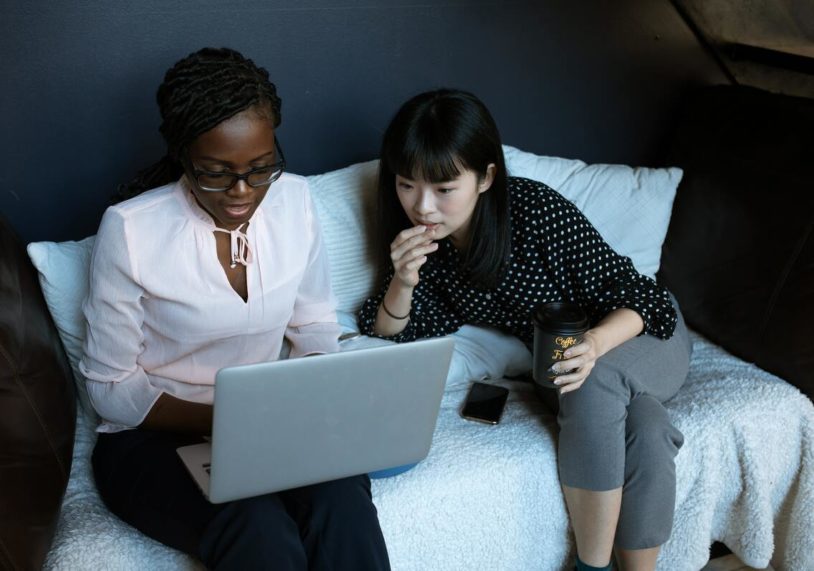 Nothing is more helpful in getting one's foot in the door for a great job opportunity than a fantastic resume. A Perfect Fit Nanny Agency is here to help. In fact, we offer free resume-creation services for our nannies, so be sure to consider us if you're looking to work with A Perfect Fit by offering childcare services. If you're a nanny looking for tips to build out your own resume, look no further. We have tons of expertise to make sure your resume stands out so that you can score that interview.
Be mindful of the presentation 
With resumes, less is often more, and it's always a good idea to try and keep your resume to one page. Additionally, take the time to make sure your resume is visually appealing. A great way to do this is to pay attention to your resume's use of "positive" and "negative" space. For anyone new to these aesthetic and visual terms, "positive" space is anything filled with text or graphics, and negative space is the blank white area on a page. A great, visually appealing resume will have a nice balance of "positive" and "negative" space, which means it wouldn't look like a page full of a large chunk of text, and it also wouldn't be too empty without much content. It might seem detailed, but details matter when pulling together the best representation of your professional self possible. A little trick to do a test of "positive" and "negative" space on your resume is to zoom out your resume in your word document so that it takes up the whole page, or better yet try this trick when it's printed, and blur your eyes to see how much space is taken up with text vs. how much of your resume is white space. Make sure it's balanced throughout the page – for instance, you don't want lots of text at the top of the page and no text at the bottom, or vice versa. Also, remember to be professional and don't include too many graphics or overly distracting design elements in your resume. That said, don't be afraid to look at some creative resume templates in either your word document or online – there are many great options to make your resume more aesthetically pleasing without crossing the line by being distracting.
Be specific about your work experience 
What are your qualifications for the position in childcare, and have you considered all your professional experience within them? It can be easy to forget just how incredible, dynamic, and diverse your childcare skills are and it can be even harder sometimes to articulate them. When listing the responsibilities for each position you've held previously, think back to when you were working for that family or company. What did you do there that lends itself well to childcare? Did you manage a team or a project that required a strong understanding of different personalities? Have you ever worked with differently-abled individuals or children? Are you great at managing money and making purchases? Are you a good decision-maker in general? What is your experience with workplace and consumer safety? What do you know about health and wellness? All of these questions are likely to trigger some sort of childcare-related skill or responsibility in your previous work environment that can be listed as a bullet in your "previous experience" or "work experience" section.
Include Your Education 
Make sure to include your level of education in your resume if you've earned your high school diploma, GED, professional degree, or have completed a degree at a 2-year or 4-year college or university. Families would love to know your educational background to factor that into your professional experience.
Include (and spice up) your skills 
The skills section of your resume is a great place to show off a bit of your personality, so don't be afraid to get a little creative in this section at least. Here, you can give your potential employer a sense of the kind of person you are. Do you speak a different language? Do you have any hobbies or interests you can include, like a sport you play or something creative you do? If so, feel free to include it in this section, as well as any credentials you might have earned with these hobbies. Families are curious to know the type of person who is going to be looking after their children, so getting a little creative with the skills section can help them understand what makes you unique as a candidate. Don't forget to include any relevant professional skills in this section as well, such as any familiarity you might have with computer programs such as word documents, spreadsheets, graphic design, social media, accounting software, point of sale (POS) software, or the like. Lastly, consider advancing your skills in the direction supportive of childcare through related training if you haven't already, such as first aid, CPR, or babysitting training and certifications offered by organizations such as the American Red Cross. Such credentials are required for nannies working with our agency. The skills section is a wonderful place to list such qualifications, and make sure to include them at the top of the list, since they directly relate to childcare.
Use numbers and metrics to quantify your experience 
Wherever possible, use numbers to be specific about the value of your work within each position you've filled. For example, you can list the number of children you've looked after, especially if you've ever worked in a setting that required the supervision of multiple children at once. Additionally, this can relate to the dollar amount of the budget entrusted to you to help manage resources and tools, such as food, transportation, and entertainment, for children. You can also attach a number amount to give a sense of the size of teams you've worked on, especially if you were ever in a leadership position in such teams.
Use Active Verbs 
The very first word in each of your bullets under each listed job you've held should be an active verb in the past tense (if you're no longer working in that position) or in the present tense (if you're still working in that position). Try to use verbs that convey leadership and professionalism at every opportunity, instead of using boring verbs like "helped," "maintained," or "assisted." Instead, use verbs like "managed," "generated," "coordinated," "supervised" or "planned." These verbs help to show how seriously you took your responsibilities at each of these positions, and will ultimately show your potential employer that you're a well-rounded hard worker who is capable of managing many responsibilities at once. Even though working as a nanny can often be fun and lively, families will appreciate the professionalism you're providing in making sure your resume reveals your best qualities at the workplace.
Be concise 
As mentioned earlier, less is often more with resumes, and it's important to be selective and intentional about what you include on your resume and how you word it. Try to keep the bullets under each listed work experience down to 3-4 strongly represented job responsibilities, instead of making a long list. When deciding what kind of responsibilities to list, think like your employer. What might a parent or guardian be interested in seeing as a responsibility handled by their potential hire? Outside of directly related experience, such as childcare or teaching, the next best applicable responsibilities to list involve customer service, household management, health and safety responsibilities, people management, budget management, organizational responsibilities, and maintaining a clean environment. Be sure to carefully consider all the responsibilities at each of your workplaces that you've held, and make sure they're listed in decreasing order of relatedness to childcare responsibilities – but that they're all as related as possible to the position you're applying for.
Keep your formatting consistent 
Make sure that you're paying attention to the formatting of your resume, and that it is consistent throughout your document. For instance, if you're listing locations for each of the positions, are they included for each experience, and in the same position? Are you making a decision to make each position typed in bold print, italics, or underlined? If so, are they all formatted the same way? When listing the time frame of each position, is the formatting of the date the same for each entry? Are all the bullets indented at the same distance? Attention to detail with respect to formatting is key for a great resume.
Proofread 
Speaking of attention to detail, don't forget to proofread, proofread, proofread. Nothing is as embarrassing as having a typo in your resume that's spotted by a potential employer, as it shows that you're unwilling or unable to take the time and effort to put your best foot forward. If you feel unsure about your ability to catch spelling and grammatical mistakes, or even if you've just looked at your resume for too long, get a friend or family member to give it a read to see if they can spot any errors. It's best to go over your resume several times to be sure there are no spelling or grammatical errors before presenting it to a potential employer so that you'll never have the undesirable experience of being caught with a mistake in your resume.
In general, it's a great idea to make sure your resume is as perfect as it can be. It's even in our name at A Perfect Fit Agency, as we believe in making sure to provide as close to perfect services as possible for both our nanny clients and our families. It all starts with a perfect resume.