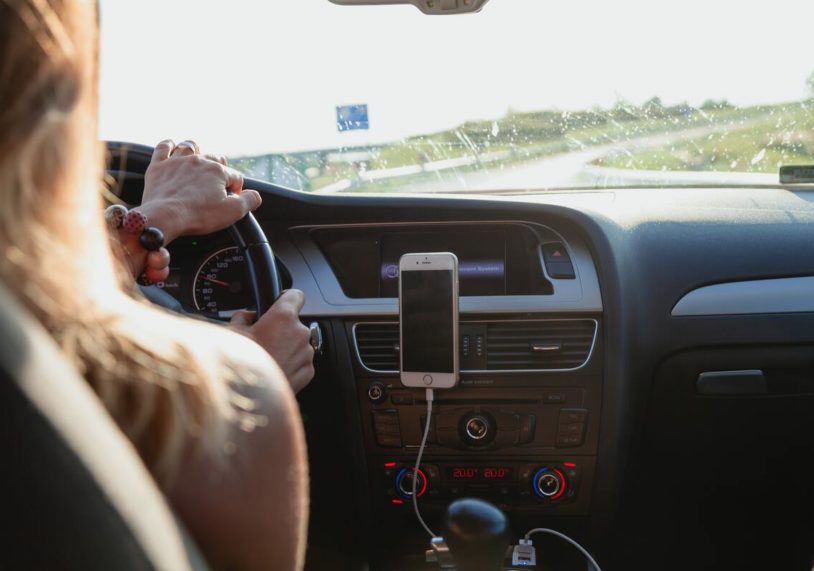 Nobody likes to think about the worst-case scenario, but it's often said to "expect the best, plan for the worst, and expect to be surprised." So we at A Perfect Fit Nanny Agency are here for you to think ahead in unexpected situations. A car accident is just that – an accident, and there are several steps families can take to prepare for the worst in this case to make the process easier after the unexpected occurs.
How to Prevent Accidents 
The best way to ward against having an accident in the first place is by making sure you're set up in the best possible position to keep your family, and your nanny, safe. For this reason, it's great to have a conversation with the nanny early on, ideally in the hiring stage, about the expectations in operating a vehicle. During this conversation, you can ask about your nanny's driving record, clarify which vehicle they'll be using – whether it's one they own or one you own, and make sure that regardless of who owns the vehicle the car insurance has adequate coverage in the event of an emergency, and talk about related expenses such as gas and general car maintenance. You can ask for copies of your nanny's driver's license and car insurance following this conversation to make sure you have on file in the event of an emergency. Unless you're using an agency like A Perfect Fit to iron out the administrative and liability details in an employment contract with your nanny, it's always a good idea to spell out in writing what the expectations and rules are regarding every detail of your nanny's employment – especially when it comes to expectations that involve risk, such as operating a vehicle.
Keep Calm and Example On 
As an employer and as the adult in your household, you have a lot of responsibility on your hands in the event of an emergency, such as a car accident, and we understand these things can be tough to navigate. Step one is to ascertain the seriousness of the accident and make sure everyone, including your children and your nanny who you employ, is safe. If possible, arrive at the scene of the accident as quickly as you can to help your nanny and family navigate the situation. Until then, remain in constant contact with the nanny, who is the responsible adult party present, to make sure the situation is being taken care of. Remember: keep calm and example on. This means as both a parent and employer, your nanny and your family will be looking at you for leadership in the event of an unexpected accident, and it's important to stay calm and set an example that both your nanny and family can trust you to handle the unexpected. Don't worry, we're here to help – and can help walk you through some of the steps to take in various scenarios.
Measures to Take Regardless 
Advise your nanny to approach the situation accordingly, as though you yourself got into the accident, and make sure you do everything in your power to protect your children, employee, and property. Priority number one is of course that everyone is safe. Many experts advise that victims of a car accident go to the hospital regardless of whether or not they feel symptoms at the time of the accident – as the adrenaline the human body pumps during an accident can often mask bodily harm that occurred as a result and might need more serious medical attention. For that reason, it is always better to veer on the side of caution and go to a hospital immediately following an accident regardless of whether or not the victims feel any pain or symptoms at the time immediately following the accident. This advice can of course apply to the situation regardless of the scenario. Other measures to take regardless of who owns the car include noting the vehicle details of all the cars involved in the collision – make note of the car's make, model, and license plate, for example. It's also a good idea to take pictures of the damage, take pictures of the insurance and photo identification of the other people and vehicles involved in the accident, exchange contact information with the drivers of all the vehicles involved in the accident, notify the police, file a police report, and gather witnesses wherever possible – often as part of the police report. Always air on the side of having as much information documented as possible. All this necessary documentation puts you at a great advantage in legal paperwork and for insurance purposes immediately following an accident, and it's best that your nanny knows to take these steps in the event of one.
Scenario 1: What if Our Nanny Gets in a Car Accident With Our Car? 
Prior to the accident, and as a part of your initial hiring or onboarding conversation with your nanny, it's very important that your nanny is added to your family's car insurance plan if they are using a vehicle that you own or lease. It is possible that doing so might increase your insurance premium, but doing so will also increase your coverage in the event of an accident. Say, for instance, you've loaned your nanny your car and they get in an accident. Or perhaps you took our suggestion to lease a car specifically for your nanny to use as part of their creative benefits. In this case, obviously, there's more at stake for you personally as the damage involves your vehicle, however, it is also preferable to dealing with the fallout of a car accident that involves your nanny's personal vehicle – since you are more directly in control of the situation and the safety of the vehicle.
However, say you do everything in your power to prevent a car accident but one still occurs – that's life. In that case, once all the necessary steps have been taken that should be executed regardless of who owns the vehicle, as mentioned above, it's time to immediately also report the incident to your personal car insurance provider. Hopefully, you've taken our advice and added your nanny to your insurance claim, and everything should be straightforward and handled by your insurance provider from that point on – as they're aware of the additional liability.
Scenario 2: What if Our Nanny Gets in a Car Accident With Their Own Car? 
In the event that you and your nanny decided that they could use their personal vehicle for your family's transportation, hopefully, you took our advice and have already spoken to the nanny as part of your onboarding conversation about the liability and details. If you did, you should already have some sort of written agreement in place regarding vehicle safety measures and check-ups, which outlines the details of using his or her vehicles and the related expenses. You should also have a copy of their driver's license and their vehicle insurance, so you're already one step ahead. Again, after taking all the standard measures following an accident that are wise to take regardless of who owns the vehicle, you or your nanny should immediately report the incident to their personal car insurance via a claim. Hopefully, you will have a thorough knowledge of their insurance coverage beforehand, as that will make you and your family feel more secure in times of uncertainty. From there, your nanny's personal insurance provider will handle the coverage of the accident.
Scenario 3: Outside Insurance 
So what if the accident is so minor that all parties are happy to settle the details and repercussions outside of insurance? Many families wonder who would pay for the damage in this situation – the nanny or the family? We at A Perfect Fit Nanny Agency cannot give any legal advice, but generally speaking, it's never advised to go outside of insurance, as the situation can easily get more complicated and possibly lawsuit-worthy without any sort of paper trail – even in the event of the smallest scratch on the vehicle. However, say this does happen and all parties agree to handle the accident outside of insurance. The main thing for families to keep in mind, in this case, is that you employ your nanny – therefore as their employer, you are customarily held financially responsible for any damage or injury that occurs while the nanny is under your employ, and especially in the case that the nanny is performing duties of his, her, or their job – such as taking the kids to the park. This means that any related healthcare costs, collision damage repair costs, and even any possible loss of potential work due to injury on the part of the nanny are the responsibility of the families to pay. Regardless of how insurance is handled, families should offer to pay the deductible in the event of an accident, even if the vehicle belongs to the nanny and the damages are being processed through a claim via the nanny's private automobile insurance. Again, this is because as the employer, families are responsible for managing the risk in workplace safety, and if the risk was not properly mitigated (by having a thorough onboarding/hiring conversation and agreement about vehicle safety, for instance), then the employer is always held liable.
What if My Nanny is Injured? 
Something that's not always considered immediately and not covered by car insurance is workers' compensation. Depending on what state you live in, if your nanny gets injured you will have to report the incident to your workers' compensation insurance. This is because your nanny was injured while executing the responsibilities of their job, and they might also be entitled to lost wages depending on the severity of the injury and the specific circumstance. In Arizona, for instance, the state allows for households to provide workers' compensation coverage on a voluntary basis. This means that while Arizona has made it a requirement for all public and privately-owned employers who have at least one employee to provide workers' compensation insurance, it's optional depending on if the individual is seen by the law as classifying as a domestic worker, working partner, or sole proprietor. There's a lot more to dig into about how to classify your household's nanny – which is all covered in our post about the ins and outs of nanny pay. Suffice it to say, getting injured on the job is always a possibility, and if you're the type of person who would like to be prepared for any eventuality, it would be wise to look into the workers' compensation laws and insurance offerings in your state, depending on your nanny's classification of employment.
Of course, we're always here to help guide you at A Perfect Fit Nanny Agency, and we have staff devoted to thinking about every possible situation and need in the world of professional childcare. Contact us today to simplify your professional household needs.